Suchergebnisse
"Hartmut Kliemt"
Titel: The Shortage of Human Organs: Causes, Consequences and Remedies
Autor: Friedrich Breyer / Hartmut Kliemt
Seite: 188-205
Abstract: There is an ever increasing shortage of human organ transplants in Germany. This paper aims at understanding the reasons for that shortage better and then discusses various ways to overcome it. After estimating the potential supply of donor organs it is discussed why actual supply remains far below potential supply. Insufficient reimbursement for hospitals, a lack of incentives to donate, and mistaken donation rules are diagnosed to cause the shortage. Thus, organ shortage is due not to natural constraints but to inappropriate social institutions. Introducing a presumed consent rule, reciprocity in organ allocation, better payments for hospitals and for donors seem potential remedies.
Titel: Binmore, Boundedly Rational
Autor: Marlies Ahlert / Hartmut Kliemt
Seite: 104-110
Abstract: It is argued that a truly Humean approach to social interaction and to normative reflection on how we should interact needs to get even closer to the facts than the Binmore program suggests. In view of the facts Binmore's normative conclusions on bargaining as well as on the nature of the equilibria of the game of life both seem precarious.
Titel: Perfect or Bounded Rationality? Some Facts, Speculations and Proposals
Autor: Werner Güth / Hartmut Kliemt
Seite: 364-381
Abstract: Simple game experiments of the reward allocation, dictator and ultimatum type are used to demonstrate that true explanations of social phenomena cannot conceivably be derived in terms of the perfect rationality concept underlying neo-classical economics. We explore in some depth, if speculatively, how experimental game theory might bring us closer to a new synthesis or at least the nucleus of a general theory of 'games and boundedly rational economic behavior' with enhanced explanatory power.
Titel: The Evolution of Trust(worthiness)in the Net
Autor: Werner Güth / Hartmut Kliemt
Seite: 203-219
Abstract: The main results of our indirect evolutionary approach to trust in large interactions suggest that trustworthiness must be detectable if good conduct in trust-relationships is to survive. According to theoretical reasoning there is a niche then for an organization offering a (possibly) costly service of keeping track of the conduct of participants on the net. We compare traits of an organizational design as suggested by economic reasoning with those that actually emerged and ask whether institutions like eBay will increasingly have to 'economize on virtue' although so far they could rely on its spontaneous provision.
Titel: Organtransplantation im Eurotransplantverbund. Geschichtliche, medizinische und organisatorische Aspekte
Autor: Hartmut Kliemt
Seite: 133-155
Abstract: To facilitate access fort he wider international audience interested in issues of organ allocation the texts in this volume are all in English. But in view of the fact that ANALYSE & KRITIK, though an international journal, is published in Germany it seemed appropriate to provide a German introduction and overview. This overview outlines the background of organ donation and transplantation as seems useful for the 'uninitiated' reader and positions the papers of the volume on the intellectual map. In the end the articles of the volume speak for themselves while the comments that conclude it may be helpful as springboards for further critique.
Titel: Kidney Allocation in Eurotransplant. A Systematic Account of the Wujciak-Opelz Algorithm
Autor: Marlies Ahlert / Gundolf Gubernatis / Hartmut Kliemt
Seite: 156-172
Abstract: In the Eurotransplant region transplantable kidneys from cadaveric donors are allocated according to the Wujciak-Opelz algorithm. This paper shows that the algorithm as it stands fulfils certain normative standards of a more formal nature while violating others. In view of these insights, it is explored how the algorithm could perhaps be improved. Even if issues of substantial rather than formal adequacy need to be addressed separately, analyses as presented in this paper can prepare the ground for a discussion of substantive normative issues. In any event, axiomatic accounts can tell us something about what we are in fact doing when using a procedure like the Wujciak-Opelz algorithm.
Titel: A Lexicographic Decision Rule With Tolerances. The Example of Rule Choice in Organ Allocation
Autor: Marlies Ahlert / Hartmut Kliemt
Seite: 191-204
Abstract: The implementation of the Wujciak algorithm as a new rule for organ allocation by Eurotransplant is of considerable interest for the theorist of choice making. In the process reformers accepted the status quo in principle but expected that their potential opponents would be willing to make minimal or 'tolerable' concessions. Thereby the consensual introduction of new dimensions of value and reforms of allocation practices based thereupon became viable. The paper characterizes a decision procedure based on ,almost lexicographically pre-ordering established values and practices, in a stylized manner, presents a formal reconstruction of it and points out some of its potential implications for rule choices in general.
Titel: Hard Choices Softened Locally. Enacting New Rules for Organ Allocation
Autor: Werner Güth / Hartmut Kliemt / Thomas Wujciak
Seite: 205-220
Abstract: The implementation of a new kidney allocation algorithm by Eurotransplant was a 'rule choice' with serious ethical, legal, and political implications. Eurotransplant made that choice in view of a careful analysis of empirically predictable consequences of alternative rule specifications. This paper studies in a stylized way how the decision on the allocation algorithm emerged. Hopefully an understanding of central features of the described successful case of initiating improvements may be helpful in other cases with a similar structure.
Titel: Das Paradox des Liberalismus - eine Einführung
Autor: Hartmut Kliemt
Seite: 1-19
Abstract: This is a somewhat simplistic introduction to some of the topics related to the so called "paradox of liberalism". It tries to serve the twin purpose of facilitating access to the papers printed in this issue of ANALYSE & KRITIK and putting them into a broader perspective.
Titel: The Paretian Liberal, His Liberties and His Contracts
Autor: Anthony de Jasay / Hartmut Kliemt
Seite: 126-147
Abstract: The paper tries to relate classical liberal intuitions about rights and liberties to some of the more formal discussions of the putative impossibility of a Paretian liberal. Its focus is on the interpretation of formal modelling rather than on formal analysis. The theoretical concepts of the formalized approaches more often than not distort the meaning of the non-formalized concepts of classical liberal theory. Using proper explications of the concepts of liberties and rights respectively the alleged paradoxes of liberalism lose their paradoxical character.
Titel: Der avancierte Affe. Zur Rolle soziobiologischer und philosophischer Theorien über die menschliche Natur
Autor: Hartmut Kliemt
Seite: 3-19
Abstract: In this article sociobiology is ,put into perspective,, from a history of ideas and a systematical point of view. It is argued that it would be foolish to regard biology as irrelevant to our concept of man and society. At the same time it would be grossly inadequate too to ignore the characteristics of human kind.
Titel: Volksabstimmungen, Verhandlungen und der Schleier der Insignifikanz. Kommentar zu Bruno S. Frey / Gebhard Kirchgässners "Diskursethik, Politische Ökonomie und Volksabstimmungen"
Autor: Michael Baurmann / Hartmut Kliemt
Seite: 150-167
Abstract: To combine some views of 'Diskursethik' and Constitutional Political Economy seems to be promising. In our comments on Frey's and Kirchgässner's attempt to join the forces of Discourse theory and Political Economy in defending the wider spread use of referenda we direct attention to three points. Firstly, the normative basis of both concepts is unsettled. Secondly, an economic approach contrary to the supposition of Frey and Kirchgässner provides substantial insights into the processes which precede collective decisions. Thirdly, the 'veil of insignificance' in referenda will not necessarily increase altruism in voting behavior.
Titel: Antwort auf eine ,Richtigstellung,
Autor: Hartmut Kliemt
Seite: 102-104
Abstract: Zu diesem Beitrag steht leider kein Abstract zur Verfügung.
Titel: Ein guter Philosoph ist stets darauf bedacht, ob nicht auch ein anderer Böses macht
Autor: Hartmut Kliemt
Seite: 174-189
Abstract: The fact that Peter Singer was prevented from lecturing in Germany as well as the fact that the discussion of his book ,Practical Ethics, was rendered impossible raises important questions about freedom. Surprisingly some philosophers have joined the political factions which strive to suppress free discussion. In this quite polemical article some of their views are rejected. The only way to weed out error is free discussion.
Titel: Individualism, Libertarianism and Non-Cognitivism
Autor: Hartmut Kliemt
Seite: 211-228
Abstract: This paper suggests that libertarian and (related) contractarian ideas would be less vulnerable to certain forms of criticism if they would more carefully disentangle their legal and moral standards for the assessment of institutions from empirical, methodological, and epistemological assumptions about individualism and non-cognitivism. Holding apart several meanings of individualism different issues can be treated separately. It Will be shown that the justification of libertarian norms raises some problems which are not too easily solved within a non-cognitivist approach. No attempt to solve them is made subsequently but how far in principle the ,argumentation possibility frontier, might be shifted out for that purpose is outlined. In this respect the paper might be regarded as a companion to Viktor Vanberg's brillant reconstruction of contractarian liberalism in this issue of ANALYSE & KRITIK (pp. 113-149).
Titel: Zu M. Taylors Analysen des Gefangenendilemmas
Autor: Hartmut Kliemt / Bernd Schauenberg
Seite: 71-97
Abstract: The theory of garnes, though at first greeted with great expectations by some social scientists, soon became a source of frustrated hopes to many of them. Too much of the theory seemed to be devoted to "zero-sum" and "one-shot" games. But most social contexts are not zero-sum and involve repeated interaction too. There was a certain lack of such game theoretic models which could be successfully adapted to social phenomena as were apt to appear in reality. Recently the theory of games seems to be on its way to closing this gap within a special branch devoted to "repeated games" or "supergames". Very promising is the approach of Michael Taylor which is surveyed and discussed in the subsequent paper. This approach has two main merits: First it can be understood with a modest mathematical background, secondly it can be adapted easily to a more precise reconstruction of classical topics in political theory. Though one might not agree with some of Taylor's conclusions it seems to be worthwhile to get acquainted at least with the basics of his analysis and to take it as a first step to opening avenues for future social research.
Titel: Schutz und Gefährdung von Rechten durch die staatliche Kriminalstrafe
Autor: Elke Kliemt / Hartmut Kliemt
Seite: 171-193
Abstract: Utilitarianism has been widely accused of inadequately treating the problem of human rights. One main criticism has been, that it could not account for acceptable institutions of legal punishment. Though the utilitarian position seems to be untenable it contains some sound points - above all its consequentialist metaethics. The central weakness of "right-based" justifications of the criminal sanction on the other hand seems to be that they do not give due place to the consequences of alternative institutional settings. But it seems to be possible to establish a right-based and consequentialist moral theory of legal punishment leading to an acceptable practice of punishment - though not necessarily the one we are acquainted with.
Titel: On the Nature and Significance of (Ideal) Rational Choice Theory
Autor: Hartmut Kliemt
Seite: 131-159
The increasingly wide spread use of RCM, rational choice modeling, and RCT, rational choice theory, in disciplines like economics, law, ethics, psychology, sociology, political science, management facilitates interdisciplinary exchange. This is a great achievement. Yet it nurtures the hope that a unified account of rational (inter-)active choice making might arise from 'reason' in (a priori) terms of intuitively appealing axioms. Such 'rationalist' characterizations of rational choice neglect real human practices and empirical accounts of those practices. This is theoretically misleading and practically dangerous. Searching for a wide reflective equilibrium, WRE, on RCT in evidence-oriented ways can explicate 'rational' without rationalism.
Titel: Universal Rights Localized or Local Rights Universalized?
Autor: Hartmut Kliemt
Seite: 321-327
A universalist conception of immigration, assuming that all humans have a fundamental ethical right to equal consideration (Brücker), is contrasted with a particularist ethical conception that restricts equal consideration to members of a given community (Osterloh/Frey). It is argued that within the limits of Robbinsian economics only a communitarian conception is acceptable while an ethical theorist might lean towards a universalist view.
Titel: Economic and Sociological Accounts of Social Norms
Autor: Hartmut Kliemt
Seite: 41-95
Classifying accounts of institutionalized social norms that rely on individual rule-following as `sociological\\\' and accounts based on individual opportunity-seeking behavior as `economic\\\', the paper rejects purely economic accounts on theoretical grounds. Explaining the real workings of institutionalized social norms and social order exclusively in terms of self-regarding opportunity-seeking individual behavior is impossible. An integrated sociological approach to the so-called Hobbesian problem of social order that incorporates opportunity-seeking along with rule-following behavior is necessary. Such an approach emerges on the horizon if economic methods are put to good sociological use on the basis of recent experimental economic findings on rule-following behavior.


Perspectives on Social Choice
2007 (29) Heft 2
Guest-Editor: Marlies Ahlert
Editorial
Introduction and Overview

This volume of Analyse & Kritik approaches social choice from different angles. Each of the papers thematically has some relation with the work of Wulf Gaertner. This provides some topical unity to the volume. However, other than in case of a typical Festschrift the refereed papers are in all other regards independent contributions to the field of social choice as very widely understood. Methods reach from axiomatic analyses over experiments to simulations and from t...


Philosophical and Methodologial Issues in Economics
2004 (26) Heft 2
Guest-Editors: Mark S. Peacock / Michael Schefczyk
Editorial
The 'dismal science of economics', as it was once called, has a mixed reputation. Some praise its clarity and elegance whilst others bewail its futility; others laud the precision of its mathematical form whereas others still descry the source of its irrelevance and unrealism in just this form. Many feel that precision and mathematisation are bought at a price too high, namely unrealistic assumptions, empty models with little or no explanatory power, unreliable predictions and a general state of...


Trust and Community on the Internet. Opportunities and Restrictions for Online Cooperation
2004 (26) Heft 1
Guest-Editors: Bernd Lahno / Uwe Matzat
Editorial
Early studies in the area of Internet Research emphasized the deficiencies that computer-mediated communication as opposed to face-to-face communication would have. The chances for the evolution of cooperative relationships on the Internet were assessed sceptically. Present research findings correct this point of view. In spite of a missing central authority, without formal controls and sanctions, with anonymity and easy-to-use exit options there is not only chaos and anomy on the Internet. Rath...


Making Choices in Organ Allocation
2001 (23) Heft 2
Guest-Editors: Marlies Ahlert / Hartmut Kliemt
Editorial





...


Soziobiologie
1994 (16) Heft 1

Editorial
Die Soziobiologie überschneidet sich in ihrem Gegenstandsbereich mit der Soziologie. Damit ist Konkurrenz, aber auch gegenseitige Ergänzung möglich. Die Tatsache, daß sich die Soziobiologie mit den genetischen Grundlagen menschlichen Verhaltens beschäftigt, hat allerdings das Verhältnis eher als ein ausschließendes Konkurrenzverhältnis erscheinen lassen - vor allem in der Sicht der Vertreter der traditionellen Soziologie. Sie haben diese Konkurrenz häufig nicht nur als eine wissenschaft...


Euthanasie heute - Thema oder Tabu?
1990 (12) Heft 2

Editorial
Der australische Philosoph Peter Singer soll mit Gewalt zum Schweigen gebracht werden. Er hat mit der Euthanasie ein moralisches Problem zum Thema der öffentlichen Erörterung gemacht, das nach Meinung seiner deutschen Gegner ein Tabu bleiben muß. Die Botschaft, die von diesen Gegnern Singers ausgeht - unter ihnen eine Reihe von Philosophieprofessoren -, besteht nicht darin, daß Singer Auffassungen vertritt, die in der Sache hart kritisiert werden müssen, sondern die Botschaft lautet: Man so...


Methodologischer Individualismus
1986 (8) Heft 2

Editorial
Es gehört auch heute noch zu den Grundüberzeugungen vieler Soziologen, daß sich das Phänomen gesellschaftlicher Ordnung nicht auf Annahmen und Theorien über Individuen und individuelles Handeln zürückführen läßt. IndiViduelle Eigenschaften und Handlungen werden im Gegenteil selbst als einer soziologischen Erklärung bedürftig angesehen. Jeder "Individualismus" wird von diesen Soziologen deshalb strikt abgelehnt, sei es als methodologisches, normatives oder empirisches Programm. Gesell...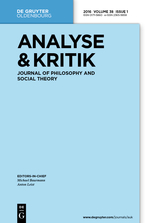 Logic, Morals, Measurement - Origins and Justifications of Norms
2016 (38) Heft 2
Guest Editors: Susanne Hahn and Oliver Schlaudt
Editorial
1. The Scope of Normativity"

"Do not use your mobile phone", "unauthorized entrance prohibited", "in order for your will to have legal force you must sign it in the presence of at least two witnesses", "scientific experiments should be reproducible", "water to cook pasta in should be as salty as the Mediterranean", "the Federal Court is responsible for deciding civil matters assigned to it by statute", "if you use a direct quotation from an author you should enclos...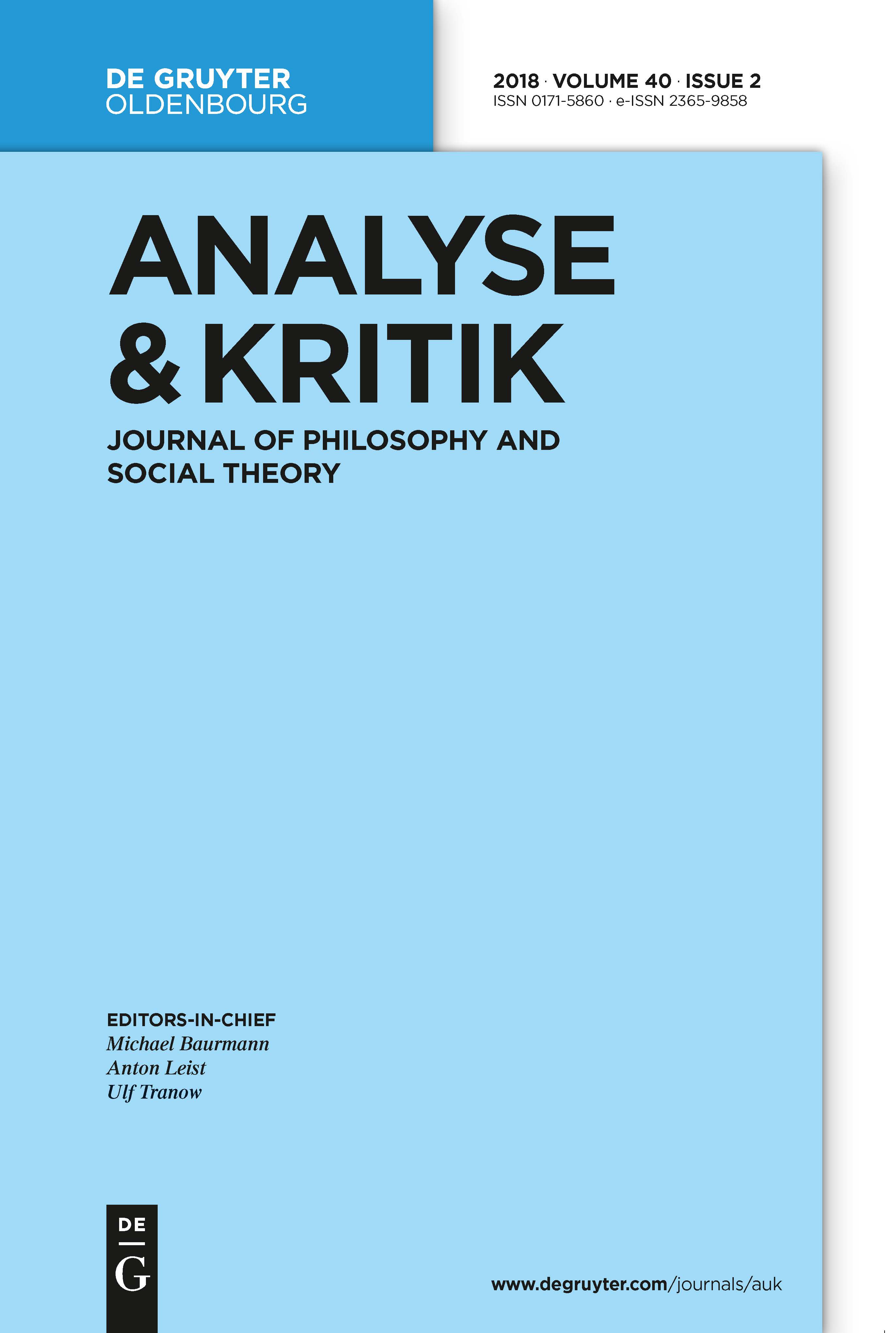 Focus: Governing Immigration
2018 (40) Heft 2

Editorial
The focus of this issue puts light on a policy proposal by Margit Osterloh and Bruno Frey. Osterloh and Frey suggest an entry fee for immigrants to govern the migration movement to European countries. In paying such a fee immigrants would acquire a 'participation certificate' allowing them to enter a country and to participate in the labour market. Asylum seekers and war refugees could be refunded once their refugee status had been accepted. As the authors argue, such a system would have sig...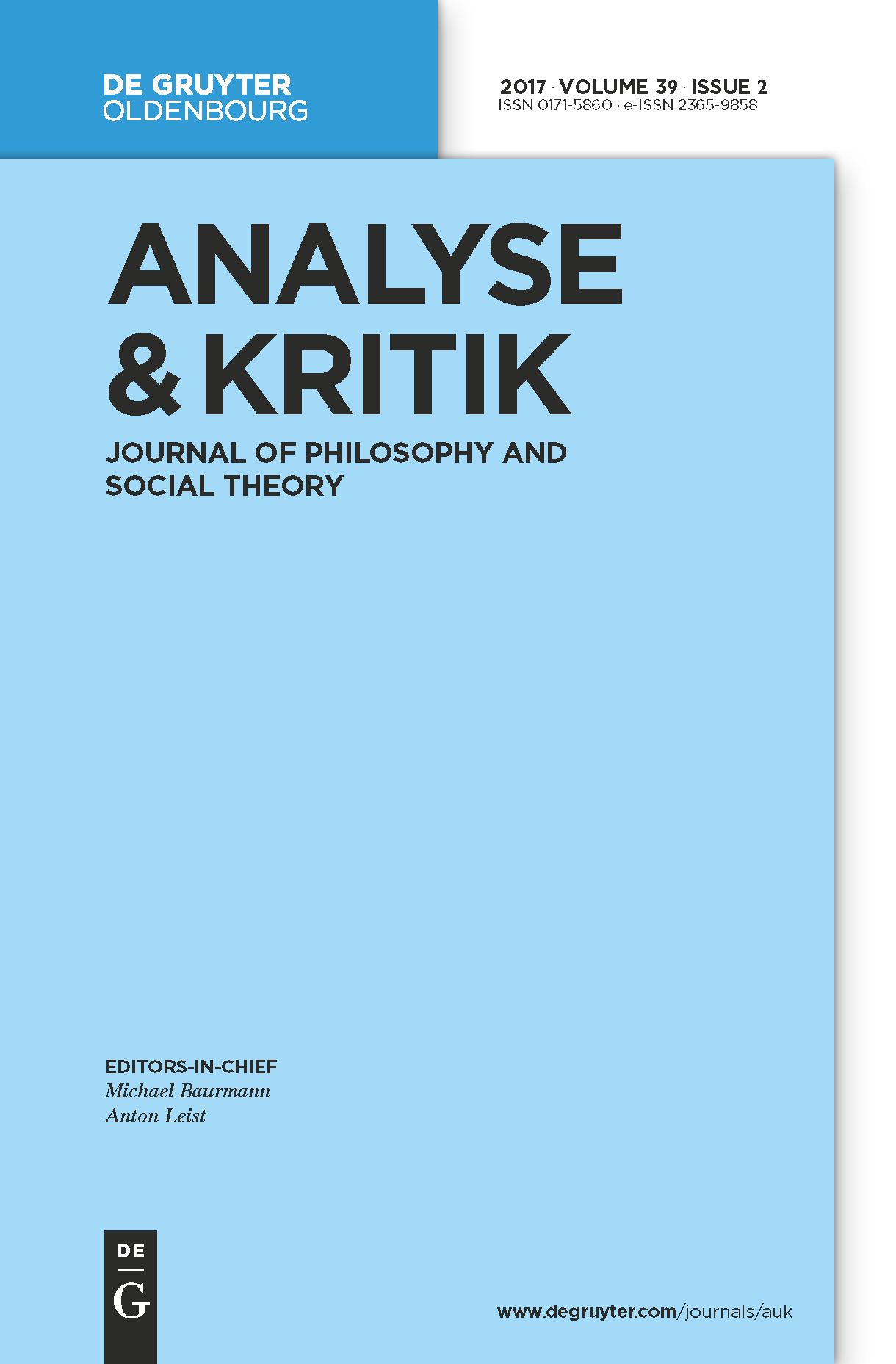 Focus: Experiments on Social Norms
2020 (42) Heft 1

Editorial
According to the classics of social theory—Durkheim, Weber, Parsons—social order cannot be based on individual utility seeking and external power, but requires 'normative integration'. Even for large parts of the social sciences today it seems to be almost self-evident that social norms are the very 'cement of society' (Elster). The underlying assumption is that essential building blocks of social order in the form of individual cooperation, collective action and political governance...