Sacred Values Today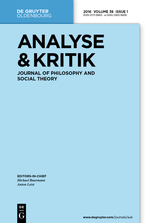 2017 (39) Issue 1

Editorial
Religion captures our attention nearly every day, even if more often now in the form of religious terrorism. Christians are struck by the difference in belief and attitudes manifested in Islamic cultures and politics. Observers also are speechless how the Jewish religion is used to instigate and justify, within a democratic society, the aggressive occupation of foreign land. And even among the core countries of 'Western secularist enlightenment' in Europe and the US, religion seems to undergo change and produce new attractions. Among social scientists, the 'secularization thesis' of a linear development towards largely secular societies is meanwhile almost universally held as being unacceptable.

These developments raise a multitude of new questions and topics for the social sciences, the most important being to find explanations for the seemingly renewed need for religion on a global scale. Partly because of widening the view on religion to this extent, partly because of the inner change religions themselves are undergoing, clarification of what is meant by 'religion' has become of paramount importance. Also there is the added concern that religion holds serious challenges for non-believers too. Now 'secular people' need to be clear about how they should deal with religious attitudes and practices in private and public when confronted with entirely different mind-sets. Monotheistic religions always had a strong link to, or affinity with, morality. To emphasize what is religiously dependent on morality and how morality changes when divested of its religious basis, is a newly contested issue too.

Whether there are 'sacred values', and if so, in which form and variants they come, summarises these concerns. Even if there clearly seem to be religious roots behind the word 'sacred', akin to 'holy', it is not clear that the concept as such needs to be religiously connoted. For many, a sense of the sacred in different contexts seems to exist, even without a clear-cut religious background. Contexts range wide, but human life, precious pieces of art and nature, national symbols and social values are typical examples. 'Sacred' then stands for being strongly valued, priceless, sacrosanct, inviolable or mysterious, or beyond human control, but nevertheless influencing human fate. Philosophical ethics and meta-ethics are the proper fora for discourse on whether these uses are still genuinely religious ones, are dependent on religion, are 'post'-religious, or flatly irrational.

The list of possible explanations of 'sacred' already demonstrates that part of what might be meant can be understood within a secular frame of reference. This goes for the assumption, implicit in 'sacred', that some extraordinary things are highly valued or inviolable, something that can be shared within a secular kind of ethics. Most often, however, the predicate is meant to point to a quality or status of the object which at the same time gives a reason for acting in a specific way. Fundamentalist attitudes and terrorism easily come to mind here, and the defender of 'sacred objects' has to explain how the tradition of sacredness can stop short of these dangerous extremes.

Richard Norman follows what he calls an 'experiential approach' to the meaning of the predicate 'sacred'. He draws on the experience people seem to have of being linked to a conscious perspective on life which is also seen as being individually irreplaceable. According to Norman this experience provides the basis for a strong moral protection of persons, even if not a limitless one. With this criterion of 'individual irreplaceability' in hand Norman tries to show that some works of art (such as the Mona Lisa) have 'sacred' value, different to most natural things, including animal life. Also, even though sharing the experiential approach with Roger Scruton, Norman thinks the latter's thesis over-dramatized of finding in the face of social others also the 'face of God', and thereby rejects a constructive route to religion through this sort of experience.

Sam Fleischacker starts by contrasting David Hume's rule-utilitarian reason for justice norms with Adam Smith's psychological defence of the sacred, and opts to follow Smith in an attempt to make 'secular sense' of the sacred. Similar to Scruton (as referred to by Norman), Fleischacker sees the sacred wedded to an 'element of mystery' in the sense of not being fully explainable even if highly important for human life. Drawing on Kant's transcendental concepts of freedom and reason he sketches a form of moral respect which requires and also provides an attitude of sacredness in social others.

One of the standard claims of 'modern', 'enlighted' or 'liberal' morality is that it reaches universality by abstracting from particular ways of life. David McPherson offers the contrasting thesis that 'traditional' moralities, even if arising within different cultures, converge at one universal point. He sketches the contents of traditional morality centred once again around sacred values (found foremost in topics of human life and sexuality) and gives as a reason for the presumptive convergence the 'tried and true' quality of traditional values - different, admittedly, from modern ones. Against the 'deflationary' (meant negatively) accounts of Bernard Williams and David Wiggins, McPherson seeks to defend the truth dimension in common morality by drawing on the realist morality of John McDowell.

In a way Hans Julius Schneider deals with the problem of convergence as well, but offers a different solution to that of McPherson. He thinks that sacredness provides a barrier for interreligious dialogue, and he develops with reference to Wittgenstein a deflationary (this time meant positively) conception of religion which promises to overcome the fundamentalism inherent in sacred beliefs.

Whereas philosophers put sacred values to the test of internal rationality, a social psychologist like Jonathan Baron looks at the consequences for social behaviour. Working with a wider concept of 'protected' or 'absolute' values ('sacred' values being a subclass in these) and based on a series of empirical research, Baron asks how the attitudes corresponding to these values are influenced by critical reflection, but also how they lead to intolerant 'moralistic' behaviour, like the discrimination of homosexuals.

Steven Lukes expands on the role of sacred values within politics, which is also dealt with at the end of Baron's article. He first sketches the Durkheimian and Neo-Durkheimian theory of civil religion which, in contrast to 'political religion', builds on the sacredness of the individual instead of a sacralisation of systems. In the second part of his article, Lukes analyses a current democratic crisis which results from massive cognitive biases and group prejudices, in blatant contrast to the alleged 'rational powers' hoped for in classical liberalism. Attitudes of sacredness play a crucial role in this anti-democratic development, as sacredness shields sacred objects from rational scrutiny. Drawing on the present political climate in the US especially, Lukes sketches how together with the truth-orientation within the new media the classical democratic ideals erode in the ordinary citizen and are substituted by self-interest and sacred group identities.

As these contributions show, it is as difficult as it is necessary to distinguish what is important from what is problematic in the various meanings attributed to the sacred, both from a secular and a religious point of view. To be against blind obedience and banality should be in the interest of both.