Suchergebnisse
"Lara Huber"
Titel: \'Gentlemen in, Genuine Knowledge out\'? Zum Status wissenschaftlicher Normen für die Erkenntnissicherung
Autor: Lara Huber
Seite: 391-415
Case studies in the history of science and technology have shown that scientific norms, so called standards, contribute significantly to the evolution of scientific practices. They arise predominantly, but not exclusively, on the basis of interactions with instruments of measurement and other technical devices. As regards experimental practices standards are mandatory preparatory procedures in a variety of designs, including the inbreeding and genetic engineering of experimental organisms (e.g. transgenic mice). I claim that scientific norms not only regulate mere technical preconditions of research but also guide experimental practices, for example with regard to the stabilisation and validation of phenomena. Against this background, the paper introduces different kinds of scientific norms and elaborates on the question if they are means to epistemic ends (e.g. stability).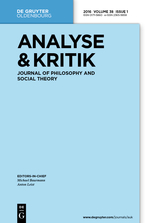 Logic, Morals, Measurement - Origins and Justifications of Norms
2016 (38) Heft 2
Guest Editors: Susanne Hahn and Oliver Schlaudt
Editorial
1. The Scope of Normativity"

"Do not use your mobile phone", "unauthorized entrance prohibited", "in order for your will to have legal force you must sign it in the presence of at least two witnesses", "scientific experiments should be reproducible", "water to cook pasta in should be as salty as the Mediterranean", "the Federal Court is responsible for deciding civil matters assigned to it by statute", "if you use a direct quotation from an author you should enclos...