Suchergebnisse
"Bruno S. Frey"
Titel: Withering Academia?
Autor: Bruno S. Frey
Seite: 285-296
Abstract: Strong forces lead to a withering of academia as it exists today. The major causal forces are the rankings mania, increased division of labor in research, intense publication pressure, academic fraud, dilution of the concept of 'university', and inadequate organizational forms for modern research. Academia, in a broader sense understood as 'the locus of seeking truth and learning through methodological inquiry', will subsist in different forms. The conclusion is therefore pessimistic with respect to the academic system as it presently exists but not to scholarly endeavour as such. However, the transformation predicted is expected to be fundamental.
Titel: Globalisierung ohne Weltregierung
Autor: Bruno S. Frey
Seite: 121-134
Abstract: Since international trade leads to prosperity, most economics are in favor of globalization. This basic conviction is shared in this paper. Several standard arguments brought forward by critics of globalization - e.g. the claims that globalization increases poverty, destroys jobs, undermines the welfare state, enables international corporations to seize power and leads to environmental degradation and uniform culture - are shown to be invalid. Nevertheless, compared to orthodox economists, a more critical view of globalization is proposed in this paper, and several shortcomings of globalization are discussed. These shortcomings are the unidirectional trade liberalization at the expense of developing countries, international organizations, like the IMF of World Bank, representing narrow economic interests and, above all, the lack of 'global governance'. Therefore, the implementation of functional overlapping competing jurisdiction (FOCJ) is put forward. It is argued that the alternative proposition of a world government is dangerous, and global solidarity (also in the form of a 'Global Compact') ineffective.
Titel: Unerwünschte Projekte, Kompensation und Akzeptanz
Autor: Bruno S. Frey
Seite: 3-14
Abstract: Democracies find it difficult, and sometimes impossible to get through projects desired by a large share of the population because these are strongly opposed by local residents (NIMBY: Not In My Back Yard). As a solution for these conflicts economists proposed offering (monetary) compensation to the citizens of the host community. Experiences with many different projects and countries reveal, however, that monetary payments are incapable of solving the NIMBY-problem. A monetary offer to accept an otherwise undesired project undermines civic virtue. This crowding-out effect is empirically demonstrated using the search for a nuclear repository in Switzerland. A satisfactory strategy to overcome the NIMBY-problem takes into account the procedure, the time sequence, as well as the type of compensation offered.
Titel: Diskursethik, Politische Ökonomie und Volksabstimmungen
Autor: Bruno S. Frey / Gebhard Kirchgässner
Seite: 129-149
Abstract: First, the approaches of Diskursethik (Discourse ethics) and of Modern Political Economy are described. While the latter investigates political decision processes, the former is concerned with the discourse process which takes place before a decision is made. This is shown by using referenda as an example. The discourse which takes place before referenda obviously does not conform to the ideal conditions defined in Diskursethik, but discourse and decisions in the context of referenda come nearer to the intentions of Diskursethik and Political Economy than other decision procedures which are used in representative democracies.
Titel: Volksabstimmungen, Verhandlungen und der Schleier der Insignifikanz. Kommentar zu Bruno S. Frey / Gebhard Kirchgässners "Diskursethik, Politische Ökonomie und Volksabstimmungen"
Autor: Michael Baurmann / Hartmut Kliemt
Seite: 150-167
Abstract: To combine some views of 'Diskursethik' and Constitutional Political Economy seems to be promising. In our comments on Frey's and Kirchgässner's attempt to join the forces of Discourse theory and Political Economy in defending the wider spread use of referenda we direct attention to three points. Firstly, the normative basis of both concepts is unsettled. Secondly, an economic approach contrary to the supposition of Frey and Kirchgässner provides substantial insights into the processes which precede collective decisions. Thirdly, the 'veil of insignificance' in referenda will not necessarily increase altruism in voting behavior.
Titel: Ein ipsatives Modell menschlichen Verhaltens. Ein Beitrag zur Ökonomie und Pyschologie
Autor: Bruno S. Frey
Seite: 181-205
Abstract: Human beings under some conditions tend to systematically overestimate their possibilities, under others to underestimate what is possible for them. This behaviour can be explained by differentiating between an ipsative possibility set (which includes what individuals consider relevant for themselves) and an objective one. These two possibility sets do not necessarily coincide. The difference may firstly be due to psychological processes as well as factors such as tradition and ideology. The difference may secondly be strategically designed by the individuals themselves knowing that they otherwise reach less utility. The approach stresses that it is essential to determine the possibility sets within which individuals rationally decide between alternatives.
Titel: Cooperatives Instead of Migration Partnerships
Autor: Margit Osterloh and Bruno S. Frey
Seite: 201-225
Large-scale migration is one of the most topical issues of our time. There are two main problems. First, millions of persons will enter Europe in the short and middle run in spite of the firewalls we have built. When the income levels in the development countries raises, the migration pressure will even become stronger for a long time. Second, the present integration policy in most European countries is deficient. In contrast to common knowledge, strong social benefits for migrants, multicultural policies and fast naturalization do not further integration. To address these two problems we propose a procedure that takes into account that most migrants react to incentives in a rational way. Migrants in our countries are joining a cooperative and take advantage of many collective goods and social institutions the citizen of the immigration countries have provided. Migrants therefore should pay an entry fee to join the cooperative. This proposal has positive consequences for both the countries of immigration and of origin, as well as for actual andwould-be immigrants. It has many advantages compared to other schemes.
Titel: Money, Refuge, and Justice
Autor: Michael Blake
Seite: 235-241
Margit Osterloh and Bruno S. Frey have introduced a novel, and potentially powerful, vision of migration rights, on which European states might respond to the current crisis of migration by conditioning admission on the payment of an entry fee. In this comment, I raise a worry about the morality of a world governed by such a principle. While Osterloh and Frey foresee a world in which migration is made more sustainable, with benefits for all stakeholders as a result, I am worried their program would lead to a lessening of support for the moral principles that gave rise to the 1951 Convention Relating to the Status of Refugees. This Convention, I argue, ought to be preserved as a public statement of the principle that wealthy states have an obligation to bear some costs in the defense of human rights; Osterloh and Frey, I argue, might be undermining support for those moral principleswe currently have the most need to reinforce. Nevertheless, I argue that under emergency circumstances we might have a need for experimentation and political innovation, even if we are confident that what they produce will necessarily involve some degree of political wrongdoing; we might, in short, have a reason to try out proposals of the sort Osterloh and Frey defend, even if the moral worries I defend here are correct.
Titel: A Pragmatic Approach to Migration
Autor: Margit Osterloh and Bruno S. Frey
Seite: 329-336
This reply focusses on three aspects: advantages and disadvantages of our proposed 'cooperative entry certificates' for the countries of origin, for the migrants, and for the host countries. It analyzes in what respects our proposal can be improved based on the valuable points made by the commentators. In addition, the question of how to deal with winners and losers within the three groups is discussed.


Social Dimensions of Science
2010 (32) Heft 2

Editorial
The research program of Social Epistemology developed from a critique on philosophical epistemology around thirty years ago. Since then it has attracted an ever growing attention, mainly, however, among philosophers. But social epistemology offers also prolific alignments for the social sciences. The starting point of Social Epistemology is the elementary fact that a large proportion of our knowledge is acquired not by our own autonomous exploration according to some ideal standards but by relyi...


Legitimationsprobleme der Globalisierung
2003 (25) Heft 2

Editorial
Im Jahr 2000 entsprach der Anteil aller grenzüberschreitend gehandelten Waren und Dienstleistungen mehr als einem Viertel des weltweiten Angebots, während es noch 1970 nur etwa 10% waren. Zugleich 'globalisierte' sich in rapider Geschwindigkeit der Aktionsradius vieler Unternehmen. Allein im Jahr 2000 investierten diese Unternehmen 1,3 Billionen Dollar über Grenzen hinweg. Gemessen an ihren Umsätzen ist inzwischen eine Gruppe von etwa 15 Unternehmen kapitalstärker als die 60 ärmsten Staate...


Kompensation oder Überzeugung?
1997 (19) Heft 1

Editorial
In diesem und dem vorhergehenden Heft von ANALYSE & KRITIK werden konsensorientierte Entscheidungsverfahren erörtert. Das Interesse an solchen Verfahren erklärt sich aus der Problematik kollektiver Entscheidungen, durch die - exemplarisch im Umweltbereich - Vorteile und Lasten unter den Betroffenen in ungleicher Weise verteilt werden. Mehrheitsentscheidungen sind unter solchen Bedingungen nicht immer optimal. Das gilt besonders dann, wenn existentielle Interessen und zentrale Werte involviert ...


Der ökonomische Ansatz in den Sozialwissenschaften I
1988 (10) Heft 2

Editorial
Die Überzeugungskraft und der Erfolg des ökonomischen Ansatzes ist wesentlich verbunden mit seinem methodologischen Individualismus und seiner Theorie der rationalen Entscheidung: 1. Komplexe soziale Tatsachen werden erklärt durch Zurückführung auf ein einheitliches Fundament, dessen elementare Bedeutung für jedermann nachvollziehbar ist: auf individuelle Entscheidungen, die Menschen in bestimmten Situationen zwischen verschiedenen Handlungsmöglichkeiten treffen. 2. Diese Entscheidungen w...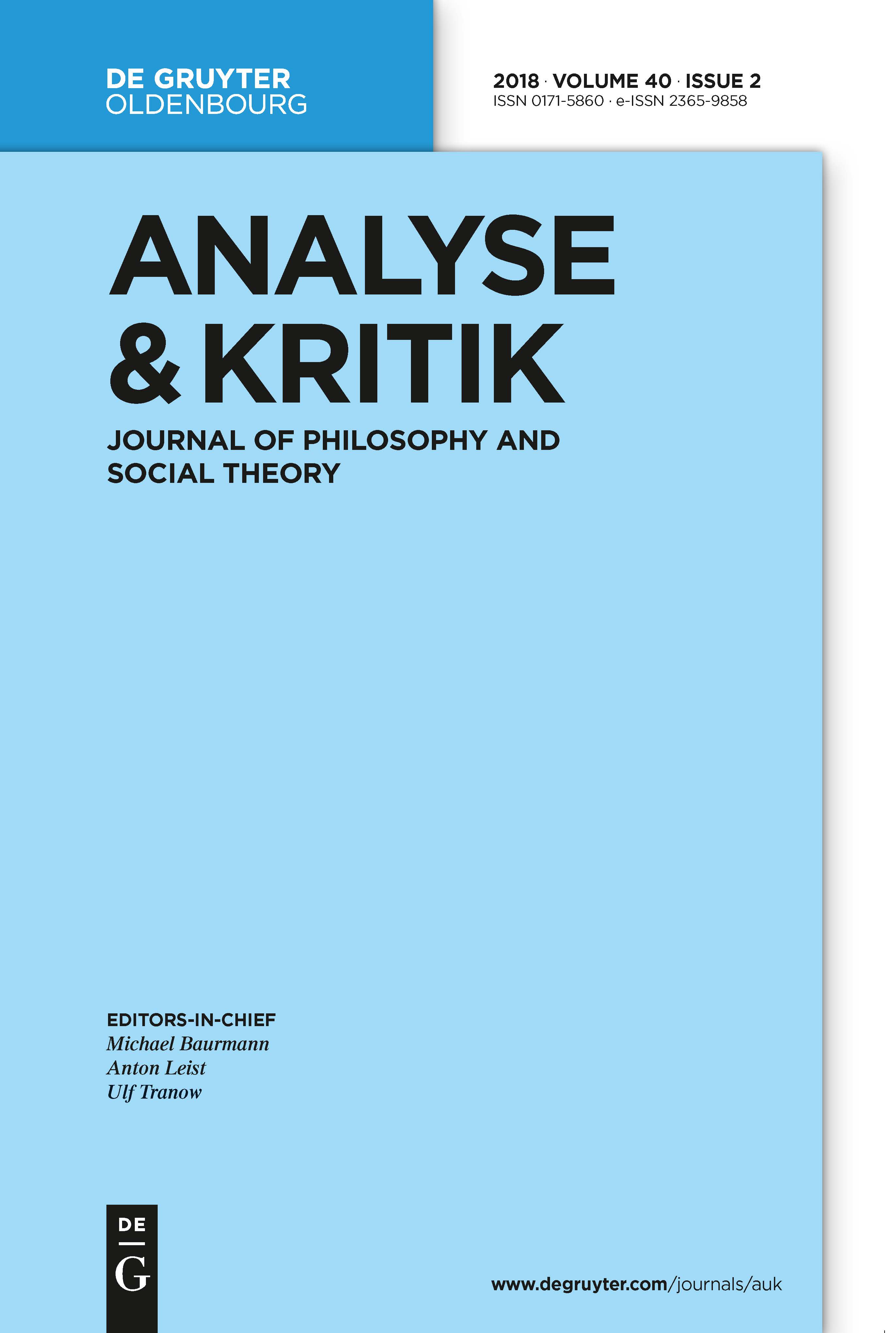 Focus: Governing Immigration
2018 (40) Heft 2

Editorial
The focus of this issue puts light on a policy proposal by Margit Osterloh and Bruno Frey. Osterloh and Frey suggest an entry fee for immigrants to govern the migration movement to European countries. In paying such a fee immigrants would acquire a 'participation certificate' allowing them to enter a country and to participate in the labour market. Asylum seekers and war refugees could be refunded once their refugee status had been accepted. As the authors argue, such a system would have sig...