Suchergebnisse
"Bernd Lahno"
Titel: Simple Games of Information Transmission
Autor: Bernd Lahno
Seite: 315-338
Abstract: Communication is an inherently strategic matter. This paper introduces simple game theoretic models of information transmission to identify different forms of uncertainty which may pose a problem of trust in testimony. Strategic analysis suggests discriminating between trust in integrity, trust in competence, trust in (the will to invest) effort and trust in honesty. Whereas uncertainty about the sender's honesty or integrity may directly influence a rational receiver's readiness to rely on sender's statements, neither uncertainty about the competence of a sender nor uncertainty about his willingness to invest effort has any direct impact on rational reliance on its own. In this regard, trust in honesty and trust in integrity appear to be more basic than trust in competence or effort.
Titel: Making Sense of Categorical Imperatives
Autor: Bernd Lahno
Seite: 71-82
Abstract: Naturalism, as Binmore understands the term, is characterized by a scientific stance on moral behavior. Binmore claims that a naturalistic account of morality necessarily goes with the conviction 'that only hypothetical imperatives make any sense'. In this paper it is argued that this claim is mistaken. First, as Hume's theory of promising shows, naturalism in the sense of Binmore is very well compatible with acknowledging the importance of categorical imperatives in moral practice. Moreover, second, if Binmore's own theory of moral practice and its evolution is correct, then the actual moral practice does and in fact must incorporate norms, which have the form of a categorical imperative. Categorical imperatives are part of social reality and, therefore, any (normative) moral theory that adequately reflects moral practice must also include categorical imperatives.
Titel: Three Aspects of Interpersonal Trust
Autor: Bernd Lahno
Seite: 30-47
Abstract: Trust is generally held to have three different dimensions or aspects: a behavioral aspect, a cognitive aspect, and an affective aspect. While there is hardly any disagreement about trusting behavior, there is some disagreement as to which of the two other aspects is more fundamental. After presenting some of the main ideas concerning the concept of trust as used in the analysis of social cooperation. I will argue that affective aspects of trust must be included in any adequate account of the role of trust in social dilemma situations involving multiple equilibria. Cooperation in such situations requires coordination even though information on what another player might do is not available. A trusting person can handle such problems of cooperation by framing the situation in a way that goes beyond cognitive trust and solves what I shall call the problem of normative consent. I will conclude with some remarks about the design of institutions that foster trustful cooperation, especially in the context of the Internet.
Titel: Gottvertrauen
Autor: Bernd Lahno
Seite: 1-16
Abstract: Faith in the sense of trust in God is discussed as a somewhat extreme case of trust. Trust in general is understood as an emotional attitude and determined by the way a trusting person perceives the world and the person trusted. Interpersonal trust as the most common form of trust is characterized by connectedness - the trusted person is perceived as acting according to norms, values or goals shared by the trusting person - and by a participant attitude in the sense of Strawson. Trust in God differs essentially from ordinary interpersonal trust, as the asymmetrical relationship between God and a faithful person does not allow for sharing a normative basis of conduct in the strict sense of 'sharing,. Therefore, trust in God is 'categorical' in character: the faithful person acknowledges God's will as the ultimate and binding standard of normative value. Whatever happens, the faithful person perceives it as an expression of God's will, and, thus, as 'good'.
Titel: In Defense of Moderate Envy
Autor: Bernd Lahno
Seite: 98-113
Abstract: In contrast to Axelrod's advice 'don't be envious' it is argued that the emotion of envy may enhance cooperation. TIT FOR TAT does exhibit a certain degree of envy. But, it does so in inconsistent ways. Two variants of TIT FOR TAT are introduced and their strategic properties are analyzed. Both generate the very same actual play as TIT FOR TAT in a computer tournament without noise. However, if noise is introduced they display some greater degree of stability. This is due to the fact that they form, in a prisoner's dilemma supergame with suitable parameters, an equilibrium with themselves that is subgame perfect or (in case of the first strategy) close to subgame perfect. It is additionally argued that these strategies are exceptionally clear and comprehensible to others in that they conform to well known real live behavior patterns.
Titel: Norms as Equilibria
Autor: Bernd Lahno
Seite: 433-458
This paper presents a survey on contemporary RC accounts of norms. The characteristic common feature of these accounts is that norms are understood as equilibrium selection devices. The most sophisticated positions driven by this idea are Herbert Gintis\' theory of norms as choreographers and Cristina Bicchieri\'s theory of norms as solutions to mixed motive games. In order to give a comprehensive account of social norms, though, RC theory needs to be substantially extended. In particular, it seems to be impossible in principle to fully understand the concept of normativity and the motivating power of norms within a traditional, pure RC framework.


Social Epistemology
2012 (34) Heft 2

Editorial
The research program of social epistemology developed from a critique of philosophical epistemology around thirty years ago. Since then it has attracted ever-growing attention among philosophers. But social epistemology also offers prolific alignments for the social sciences. The starting point of social epistemology is the elementary fact that most of our knowledge is acquired not by our own autonomous exploration but by relying on information from others: on testimony. This is especially true ...


Trust and Community on the Internet. Opportunities and Restrictions for Online Cooperation
2004 (26) Heft 1
Guest-Editors: Bernd Lahno / Uwe Matzat
Editorial
Early studies in the area of Internet Research emphasized the deficiencies that computer-mediated communication as opposed to face-to-face communication would have. The chances for the evolution of cooperative relationships on the Internet were assessed sceptically. Present research findings correct this point of view. In spite of a missing central authority, without formal controls and sanctions, with anonymity and easy-to-use exit options there is not only chaos and anomy on the Internet. Rath...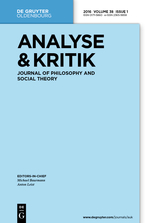 Logic, Morals, Measurement - Origins and Justifications of Norms
2016 (38) Heft 2
Guest Editors: Susanne Hahn and Oliver Schlaudt
Editorial
1. The Scope of Normativity"

"Do not use your mobile phone", "unauthorized entrance prohibited", "in order for your will to have legal force you must sign it in the presence of at least two witnesses", "scientific experiments should be reproducible", "water to cook pasta in should be as salty as the Mediterranean", "the Federal Court is responsible for deciding civil matters assigned to it by statute", "if you use a direct quotation from an author you should enclos...